I know I am a few months late with this story but I just recently came across images of the
Royale De Luxe
street theatre company's performance titled "
The Berlin Reunion
". Royal de Luxe has created several open air theatrical events with gigantic and incredibly agile human and animal figures which have become the company's trademark.

The Giant Saga, which continues to this day all over the world, began in 1993 with The Giant who fell from the sky. For three days the Giant, controlled by over 30 people, made his way through the streets of Le Havre. The Little Giantess enchanted London in 2006 in
The Sultan's Elephant
and afterward received invitations from all over the world. In 2007 she could be seen with The Hidden Rhinoceros in Santiago, Chile and that same year the Little Giantess also appeared in Iceland.

Following the premiere of
The Titanic Giantess and the Diver
in June 2009, as story of the giant diver is search of his missing niece, the pair were reunited in Berlin this past October. The Giants Arrive – a Fairy Tale for Berlin, commemorated the 20th anniversary of the fall of the wall by telling the story of the Giant and his niece the Little Giantess who are reunited after many years of separation at the Brandenburg Gate.

Here are some incredible photos from the event. I also included a youtube video so you can see the puppeteers at work, what an amazing feat to pull off.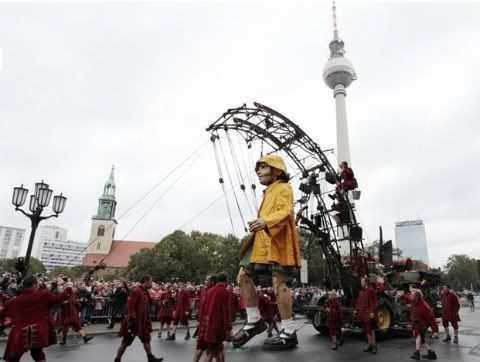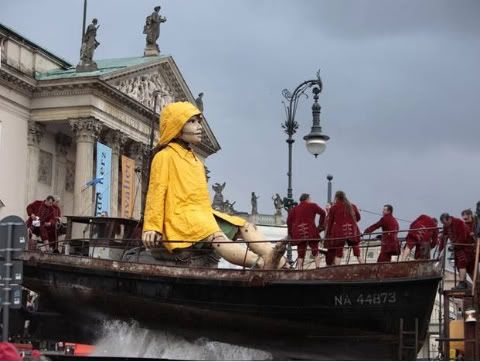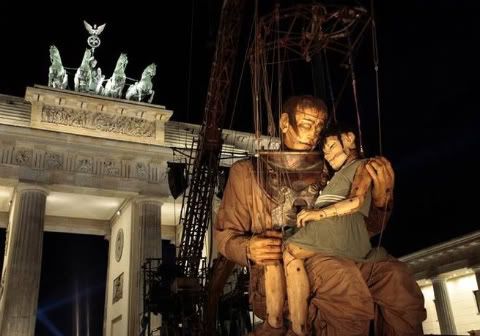 The last photo is the pair of reunited giants spending the night at the Brandenburg Gate. I'm captivated by the human expressions on these giant puppets.
Sign up to receive Design Evolution updates via
RSS feed
or
email
.
Photo Credits: Hans Scherhaufer