This afternoon I'm actually stalking a home that is attainable. It's not a million dollars and It's not in London or Paris. You're probably thinking, "Where's the fun it that?" but honestly guys, how cute is this house?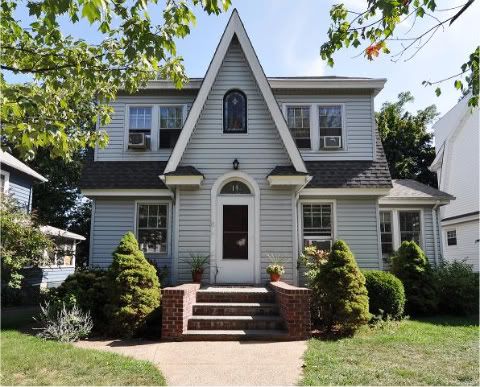 Wouldn't you smile every day when you approached that adorable peaked entry? I would. The best thing about this house is that the interior is just as perfect as the exterior. I would certainly change a bunch of things about it because that's what I do but that doesn't mean I don't still love it. I also have to give a big thumbs up to the homeowners for cleaning their house and hiding all of their crap before having photographs of their home taken. It's so refreshing to see a real estate listing for a home that is neat, clean, and clutter free.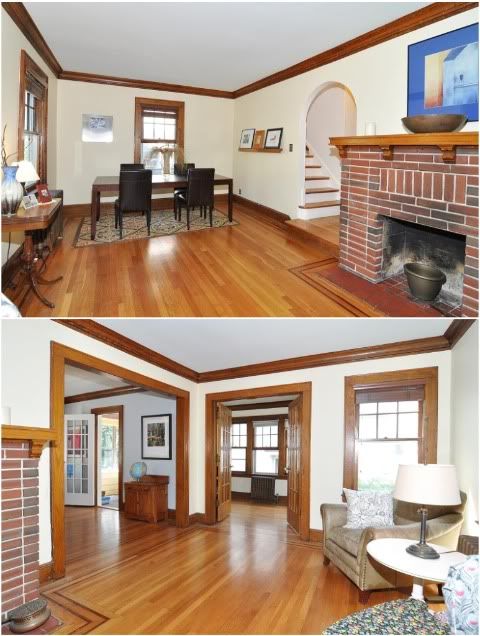 The flow of house is great. It feels really bright and open which is no doubt due to the abundance of large windows. Ready to hear the things that I would like to change? The fireplace definitely needs to be painted. I would probably paint the brick a light gray and the firebox matte black. I might want to floors redone but I haven't completely decided. From what I can see in the photos they are in excellent condition but they are too orange and shiny for my taste. I'd like them to be a walnutty brown (but not to dark) with an oiled instead of poly finish but I'm not sure it would be worth the huge mess that the project would create. And don't shoot me but, I would paint the wood trim. All of it. In the entire house. It's more orange than the floor and I don't think I could live with it. Plus look how nice it looks painted in an upstairs bedroom: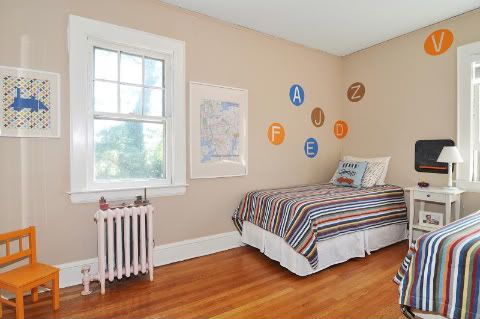 You agree with me now, right? Another thing I love about this house, the kitchen: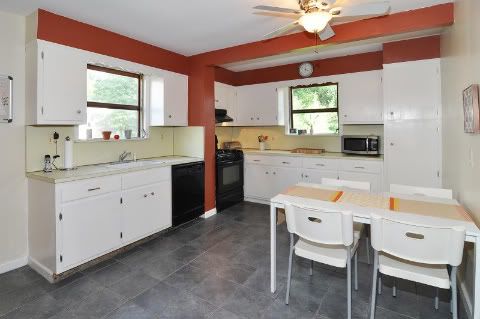 Sure it's pretty out dated and doesn't look like anything too special but it's clean, functional, and spacious. I could live with it in this state for a long time before I got any ideas about renovating. It could use a few tweaks. I think if you got rid of that crazy orange paint, replaced the counter top with a butcher block, added a farm house sink, and got rid of those black appliance you could be pretty happy in this kitchen. Plus it has a window over the sink which is probably going to be a deal breaker when it comes time for me to buy a house. Silly, I know but we all have our things.


I fell in love with a few other details. A three season sunroom with a beadboard ceiling that I would NOT paint: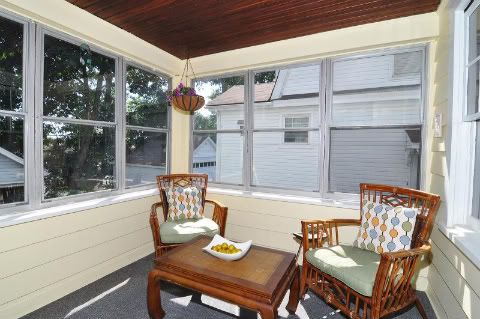 And I even love this odd attic space: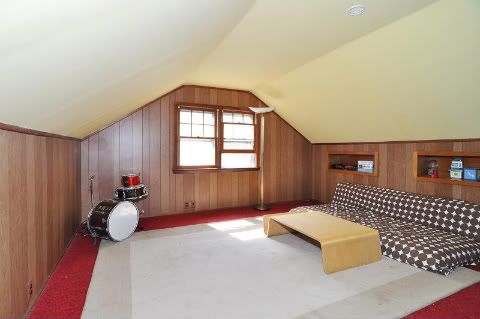 I wouldn't even bother taking the paneling down. I would just paint the entire room white (except maybe those two wooden cubbies), tear up the fug carpet, and install inexpensive plywood flooring to make the place look all Scandinavian like. You'd love it I promise.