I want to draw your attention to the little etsy widget in my right sidebar.  You have to scroll down a bit to see it.  Just thought I would let you know that I update that list pretty regularly with artwork, clothing, housewares, etc. that I stumble upon and fall in love with.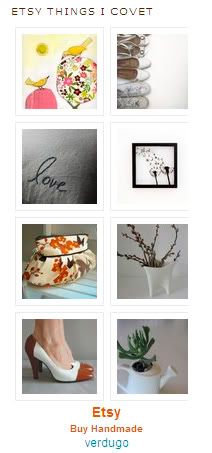 Since this only displays the 8 most recent items you can feel free to subscribe to my
favorites feed
if you'd like to see the entire list and receive updates when I add new items.  Just want to warn you there are a lot great things on that list.  You may feel the immediate urge to do some shopping.  Enjoy!
Related Posts: 
Design Evolution Favorite Blogs
Design Evolution updates via 
RSS feed
 or 
email
.