With all of the hype surrounding Valentine's Day couples often feel the pressure to over perform. The celebration can get out of hand with expensive dinners, flowers that triple in price for just one day, and gifts that you don't really need. You don't need over the top plans to show the one you love that you really care. As a matter of fact you don't even need to leave your house. Here's a few ideas for a romantic and fun Valentine's Day
.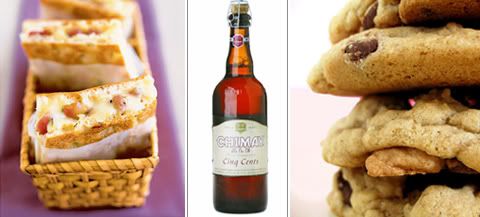 If you are the couple who isn't afraid of some healthy competition why not organize a game night. In our home the game of choice would be backgammon but a Wii bowling tournament could also be a lot of fun.

If you get excited by the idea of spending the night playing video games then you are obviously a kid at heart. Feed that inner child with some delicious comfort foods.

Serve grilled cheese sandwiches with a grown up twist. My favorite is sliced apples, brie, and some grainy mustard. You might want to try these sandwiches with

Manchego cheese and Serrano ham

or

sage and fontina cheese

.

Accompany those yummy, gooey sandwiches with a Belgium beer like

Chimay

. Check out their website to see with which cheeses it pairs best.

What better for dessert than chocolate chip cookies? I love Jacque Torres's cookie recipe but I've never had complaints when I decided to just follow the recipe from the back of Nestle's Tollhouse chocolate chips.

If you are looking for something a little more romantic rent a stack of romantic foreign films like Molière, Stolen Kisses, The Umbrellas of Cherbourg, Jules & Jim, and Like Water for Chocolate.

Light a bunch of candles and grab a blanket just big enough for two so you can snuggle close on the sofa while watching the films.

Snack on a selection of cheeses and drink you favorite wine. You may want to try a Pinot Grigio like

Satori

that is great tasting but really affordable.

If you're feeling really ambitious give this

sourdough baguette recipe

from Chocolate & Zucchini to serve with the cheese.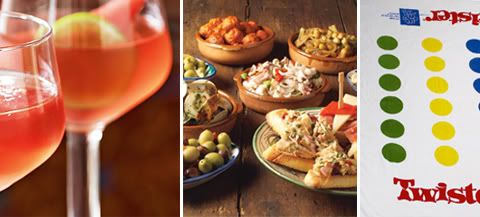 Who says Valentine's Day has to be a one on one evening with your significant other? You probably see each other every day. Instead, invite your very best friends over for a rousing good time.

Make a play list for the evening of only the corniest love songs you can find.

Play silly and sometimes suggestive games like Twister and Battle of the Sexes.

Mix up this delicious Rose Sangria - 3 cups of Rose wine, 1.5 cups pink grapefruit juice, 3oz Cointreau, 3oz brandy or tequila, 3/4 cup club soda, garnish with cubed lemon, orange and cantaloupe.

Serve your guests assorted easy to prepare tapas like grilled chorizo,

mushrooms and aioli

,

ceviche

, and bite sized meatballs.
However you decide to celebrate or who ever you celebrate with I hope you have a wonderful evening.