Sometimes the smallest rooms in the home are the most fun to decorate. This can be especially true for the powder room. We may not all be blessed with this extra 1/2 bath especially for guests but if you are one of the lucky ones why not have see it as an opportunity to be bold with your decorating choices.
This is your opportunity to cover the walls with your favorite color. Pale pink, rich brown, or brilliant teal might seem like over kill in your living room but applied on a smaller scale room like in a powder room these colors can be really special. I also love the idea of turning a powder room into a gallery space like the photo from Elle Decor. Want a chuckle? Check out this
art work
that
Nichole
as decided to hang in her powder room.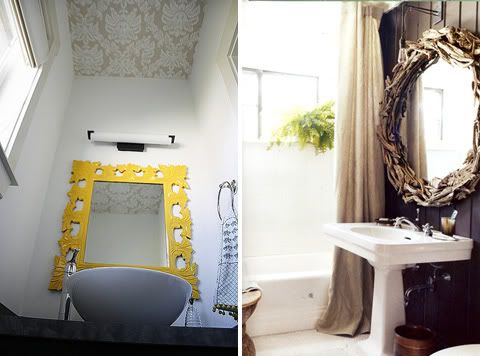 I like to think of the powder room as a little jewelry box and it's sparkling gem - a great, over sized, statement mirror. You can go modern in a shiny bright color or rustic like the fabulous mirror from Domino made of driftwood. As a matter of fact this is one idea that I don't think needs to be saved for the powder room and can be carried over into the master bathroom.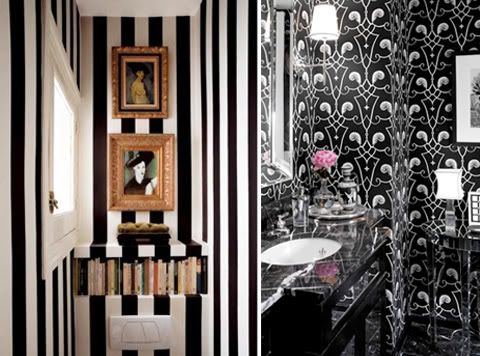 Feel like being really bold and want to more than just paint the room a rich color? Go for a patterned wallpaper instead. I love a
geometric wallpaper
like those available from
Graham & Brown
. The photo above from Simply Grove shows a really creative use of wallpaper in a powder room, it is applied only to ceiling. Since this is not a high moisture environment like a standard bathroom you won't have to worry about the wallpaper peeling.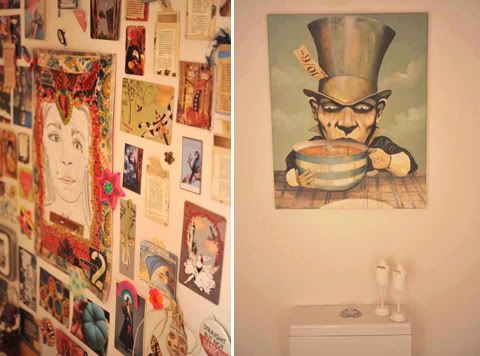 And finally, it's your space so do whatever with it makes you happy. This is of course what it really comes down do in any part of your home. I love how Maryam, author of the blog
My Marrakech
, filled an entire wall with little handmade bits and bobs that make her smile and other other walls she hung some curious pieces of art work. I may not do this in my own home but I would certainly be happy to be a guest in her space.